a. STANDARD OPERATING CONDITION
IMEFY S.p.A. transformers, unless otherwise agreed are suitable for indoor installation with a maximum ambient temperature of 40°C and a minimum ambient temperature of -25°C at an altitude over sea level lower or equal to 1.000 m.
IMEFY S.p.A. transformers are manufactured with class F isolating materials (155°C) with a windings and magnetic core permissible over temperature of 100 °K.
The above-mentioned characteristics are the "standard" characteristics anyway the real characteristics may be different in accordance with what agreed during the offering and procurement stage. Final characteristics are always available in the test report that is always attached inside the transformer packaging.
b. OPERATING TEMPERATURES AND PROTECTION SETTING FOR OVER TEMPERATURE
Depending by insulating class, in the below mentioned table are listed the temperature limites that the transformer can withstand during operation :
Tab.1

Each transformers, unless otherwise agree, is equipped with 3 (PT100Ω), one for each winding, to be connected to a relay with alarm, trip and fan contact. Different solutions and relays are available on request.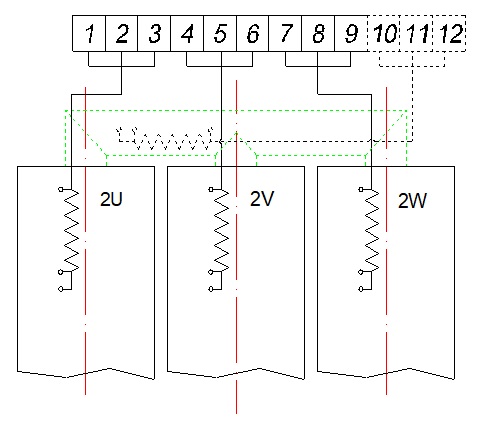 Here below a table with the suggested thresholds:
Tab.2

As an alternative PTC sensors can be installed instead of PT100. PTC sensors are having a fix native temperature threshold level therefore it twill be necessary to install 2 PTC per each winding for alarm and trip and if fans are present a third PTC will be necessary for their operation.
PTC sensors require a specific type of relay to manage the signals received.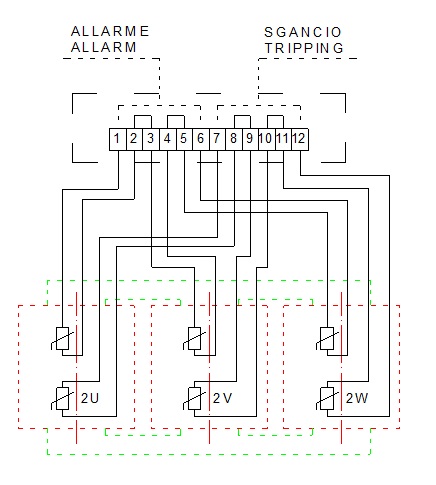 Upon request, a dial type thermometer can be installed on transformers. Dial type thermometers are having two settable temperature thresholds to be setted them in accordance with Tab.2.

c. NATURAL SUBSTATION DESIGN FOR TRANSFOMER HEAT DISPOSAL
For a correct installation and longer lifespan of the transformer, it is necessary to dispose of the heat generated by the magnetic core and the windings due to the joule effect, taking care not to exceed the temperature rise limits established in function of the thermal class of the transformer.
One must insure an adequate cooling by means of natural air circulation that must lap the sides of the transformer in a natural -down to up-motion.
For this very reason it is imperative to place adequate openings in the room housing the transformer, in order to allow for every KW of heat shed, approximately 3,5 cubic meters of air must flow per minute.
In the installation room, apertures must be provided at floor level for the entry of cooling air and high on the opposite side, apertures must be provided for the exit of the heated air shed. (see picture)
The theoretical formula of the apertures in function of the KW to be disposed of, is the following:
S = 0,188 x P : √H . (see picture)
Where:
S = Surface in sqm. of entry aperture
P = Sum of the heat shed at no load and under load at 120°C in kw.
H = Height of the two apertures expressed in meters.
d. INSULATING DISTANCES
During transformer installation and operation minimum isolating distances between cables ( HV cables and HV cables shield , LV cables, Auxiliary cables, ground cables, metallic parts) and active parts of the transformers have to be peremptorily secured.
Resin in HV windings is to be considered as an active part! The non-compliance of above mentioned distances compromise the transformer standad operativity and may create possible outage with high risks for the transformers itself!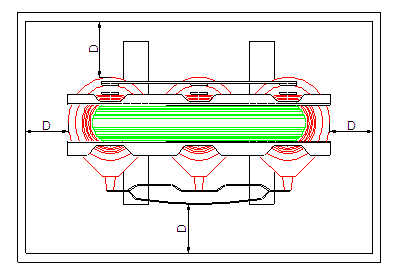 The insulating distances depends on the transformer's insulating class in accordance with the following table:
Tab.3

Furthermore, as obviously any risk against indirect contact between people and active parts (resin included) have to be avoided.
The minimum distances to be kept on safety of people against indirect contact are the following:
Tab.4

e. LV AND HV CONNECTION
In the following drawing are listed two options for LV and HV connections properly routed. In any case the proper distances have
to be insured in accordance with what mentioned on the above point 3d.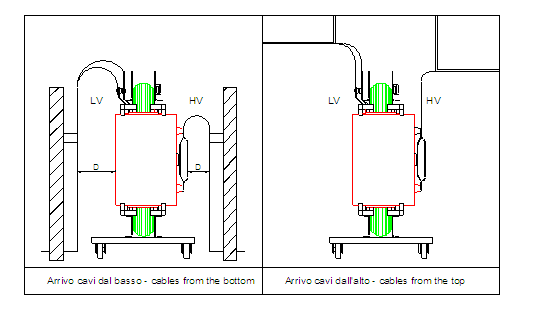 f. PARALLEL CONNECTION
Here following some basic check to be performed before to put in parallel more transformers:
Identical voltage ratio (and identical tap changer position)

Identical operating frequency

Identical Vector group

Identical short circuit impedance (10% Tolerance)
Please do not hesitate to contact our technical department.