a. RECEIPT
The packaging removal and the transformer unloading must be performed peremptorily in a covered area.
When the transformer is received the following checks have to be performed:
No packaging damages have to be present

No transport damages on the transformer have to be present

The transformer technical characteristics must fully respond to the characteristics ordered

All the accessories must be available and not damaged
Whichever non-conformity have to be immediately reported in the document of transport otherwise IMEFY spa will not be entitled as responsible.
b. TRANSPORT AND HANDLING
The transformer can be lifted exclusively through its own lifting lugs placed in the upper magnetic core frame. In case the transformer has to be shifted in longitudinal way the transformer can be pulled only using the haulage holes placed in the lower magnetic core frame.
Any pressure or impact with the windings, connection and HV and LV connections is absolutely forbidden and must be avoided during handling.
If the transformer is wooden packed the forklift handling is allowed though the proper longitudinal lifting area at the case bottom or alternatively by lifting it thorough belts or chains properly rated with the transformer weight placing them in the points clearly showed on the packaging.
During truck transport the transformer, have to be properly located in order to avoid any possible impact with whichever object and in such a way to allow the belt fixing of the transformer itself with the truck bottom fixing rings. The belts have to be passed through the proper hook fixed in the upper frame structure holes.
We remind to pass the belts only through the proper hooks connected with the copper clamping proper holes. The belts must absolutely be located in a way NOT TO touch or apply any pressure on transformer's windings or connections.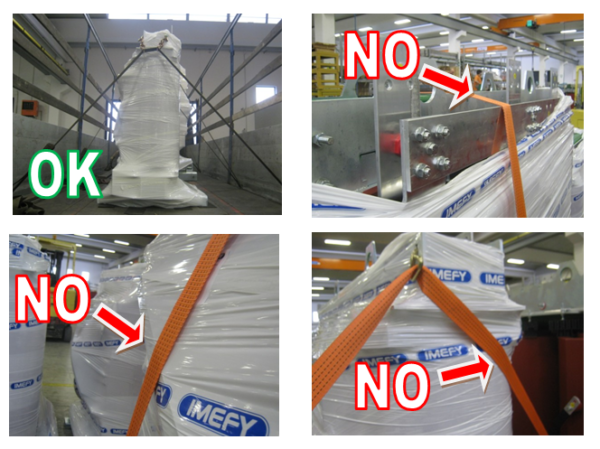 c. STORAGE
The transformer have to be kept inside its own package in a dry and clean area with an ambient temperature not lower than –25 °C.